This week, we concentrate on the activities that are being planned for the next few weeks, leading up to the
re-opening of the WSR on Saturday 22nd May 2021
. In addition to the activities needed to support the WSR, we also have some activities of our own that we have to fit in for various reasons.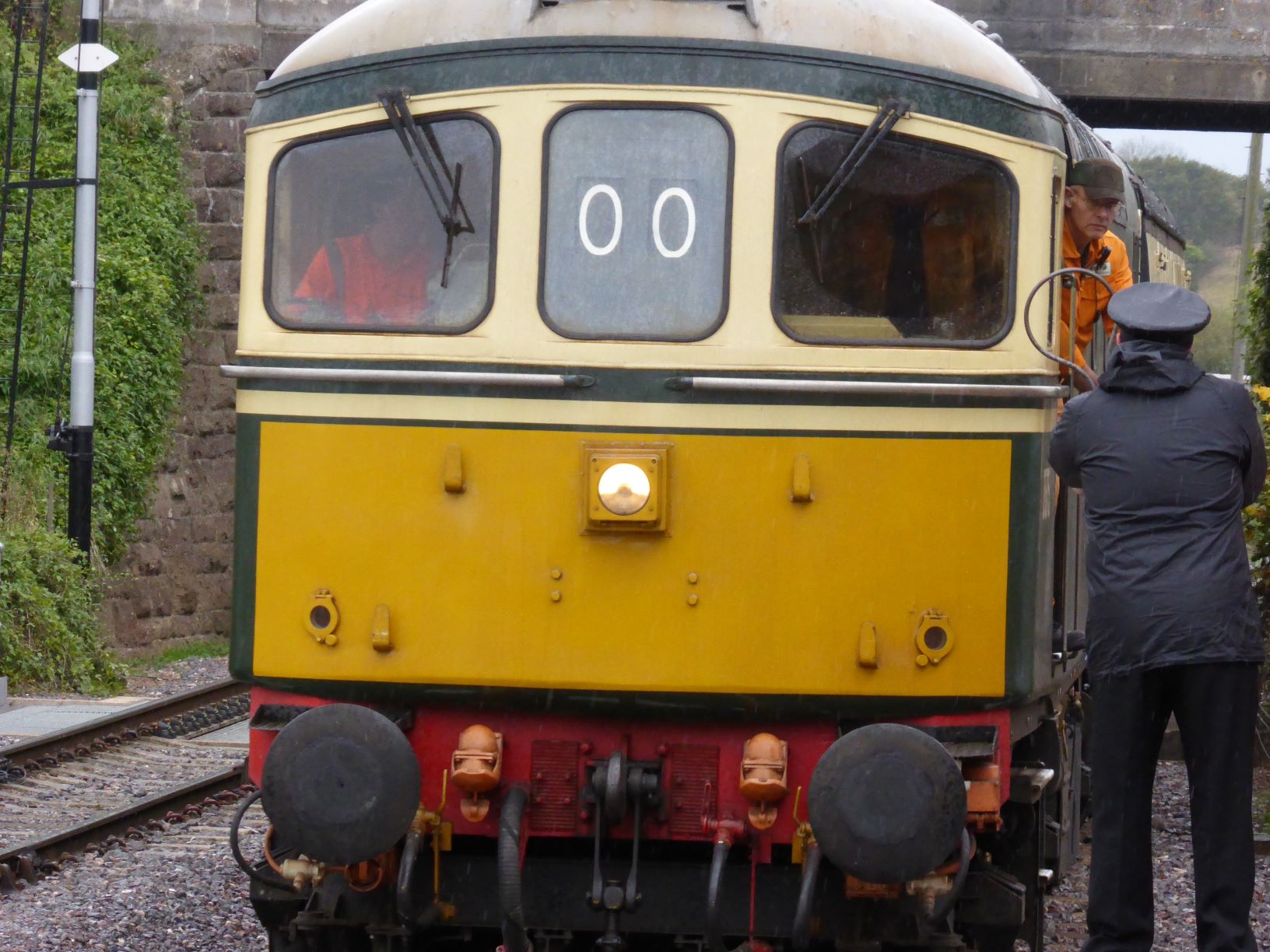 First, we need to make sure that the current duty locomotive, Class 33 'Crompton' D6575 (33 057) is ready for action. This loco is currently fully serviceable and is stabled alongside Platform 1 at Williton (WN) station (the 'down' line) in the company of a brake van (or guard's van). We expect that she will be moved to Bishops Lydeard (BL) to support the planned staff training specials that will operate from the 19th April in the BL-WN section. These specials will run two or three round trips on each Saturday between the 19th April and the 15th May.
For the DEPG, our big part comes into focus on Saturday 3rd July, where the BLUE timetable includes a 60-mile diesel-hauled service that starts and ends in Minehead with an additional shuttle between BL and WN. This opportunity for diesel haulage has come about due to the non-availability of the DMU this season. In total, the current published timetable shows 27 days where the BLUE timetable is in operation. This significant amount of running gives us the opportunity to use Class 35 'Hymek' D7018 and Class 14 'Teddy Bear' D9526 on some days, while our stalwart Class 33s D6566 (33 048) and D6575 (33 057) will cover the majority of the workings.
These BLUE timetable workings will provide an hour stopover at Williton between 1320 and 1430, so we hope to be able to find enough volunteers to be able to open our depot on each running day and put on a bit of a 'show and tell'.
The origination point of Minehead for the BLUE timetable is not ideal for most diesel fans, but it is an opportunity that has been presented to us and we now need to do our very best to make sure that every ticket is sold and that these services are a commercial success. PLEASE TRY TO SUPPORT THESE DIESEL-HAULED SERVICES! We will announce our plans for haulage as soon as we can, but this depends on volunteers completing refresher training so that we can provide sufficient crews to cover this workload. It also depends on locomotives being available for service….
For Class 33 D6566 (33 048), work is ongoing to resolve the oil dilution issue but the investigation reports show that the engine oil is still within limits for further use, so the loco will be made available for service in time for the staff training services that start on 17th April.
Class 14 'Teddy Bear' D9526 is waiting for an opportunity for a test run to BL so that she can go over the pit for an underframe inspection. If all goes well, she will be available for use immediately after that.
Class 35 'Hymek' D7018 is currently out of service for attention to the gear-change mechanism in the Mekydro transmission, but plans have been made to resolve this in time for the summer services. In the worst case, the loco will be locked in second gear and will perform its duties in that way (and few will be able to tell the difference).
So, we WILL be READY !
We can keep you informed of diesel loco workings if you join our DIESELGEN e-mail bulletin service.
LOCO NEWS:
D1010 – After the excitement of last week when the 'A' engine of Class 52 D1010 'WESTERN CAMPAIGNER' was started up (see last week's Depot News posting), this weekend is a lower key affair as the 'B' engine receives care and attention. This engine, although fully serviceable, cannot be started because the transmission has been removed for investigation and repair, so the 'B' engine needs to be lubricated and turned over manually to keep all of her moving parts from seizing up. Because of the positions of our locomotives and rolling stock in the crowded South Yard at Williton, it is necessary for D1010 to be able to move herself so that we can release Class 47 47077 'NORTH STAR' from the loco shed some time later this month.
47 077 – This loco needs to have some work completed before she can be removed from the shed. The key outstanding tasks are the re-installation of the Serck hydrostatic radiator shutter panels, all of which were refurbished last year and are lined up ready and waiting, and the reinstallation of some other roof panels to make her watertight and able to be moved outside. Then there are several internal tasks to be completed before the loco can be made ready for inspection. If lockdown rules permit, these tasks will be completed before the end of April.
D7017 – Good news this week because a complete new set of primary suspension coil springs have arrived at Williton depot. The photo below shows the brand new parts, set to scale against a steel tape measure. Many thanks to all who donated towards the purchase of these parts. The elliptical secondary suspension springs are to be the subject of a new fundraising campaign on JustGiving.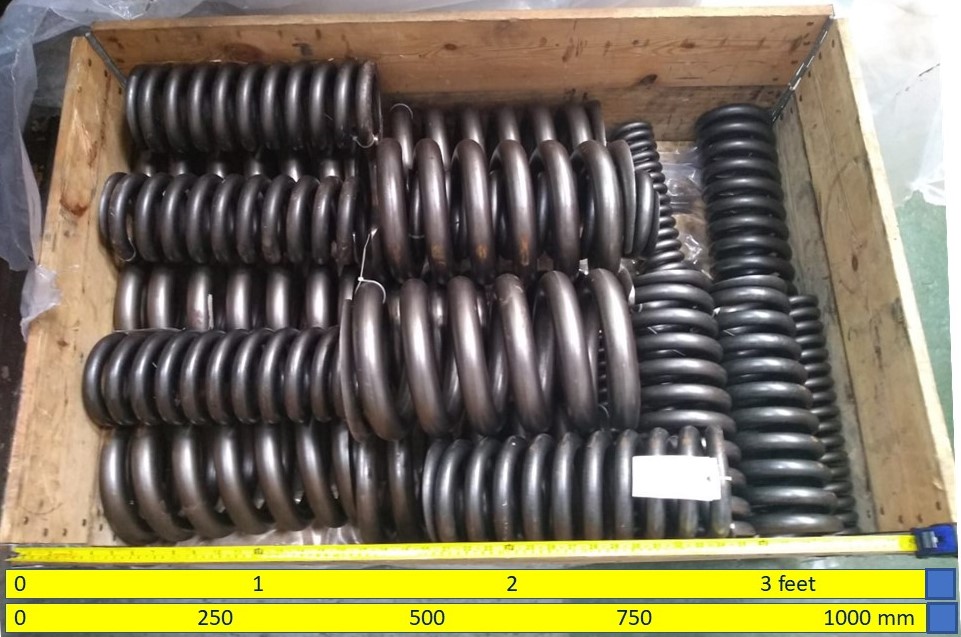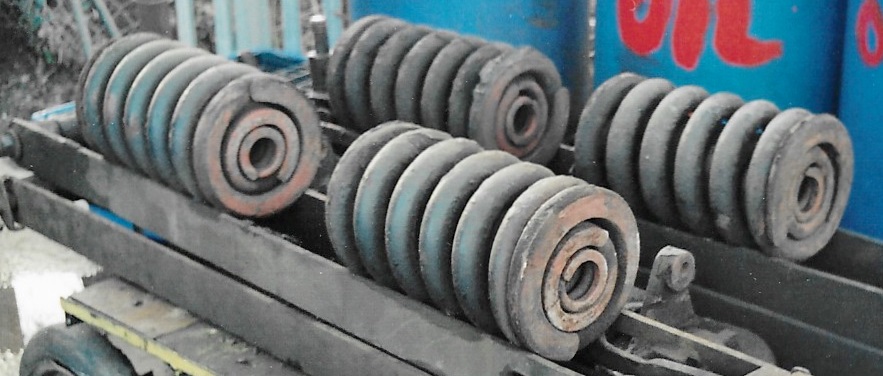 Other than reported above, the status of our locos remains unchanged this week, due to lockdown. Many thanks to all of our volunteers for their continuing work to keep our locomotives in the best condition possible, considering the circumstances.